Graduation 
One Ph.D student namely Yitayal Admassu (Yite) has completed his Ph.D after successfully defend his research presentation on Oct. 22/2019.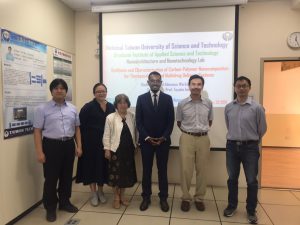 Teacher's Day (01 October 2019)
We had dinner together and celebrate teacher's day. Professor Imae received a special gift from her students to remember the day. Happy teacher's day, Prof!!
International Symposium of
Renewable and Sustainable Materials 2019 
(Materials 2019)
2019可再生及可持續材料國際研討會
http://materials2019.org/
August 8-10, 2019
National Taiwan University of Science and Technology
(Taiwan Tec), Taipei, Taiwan
International Building (IB) 101, 201, 202
Recently vicious news relating to plastic wastes were frequently reported. The problem is that plastic polymers are nondigestible by animals and nonbiodegradable by bacteria. Then, the approaching actions are to deduce the plastic wastes and to use non-plastic disposable wares like wooden straws/spoons for approving the environmental pollution issues. As one of cases, the nanofabrication of cellulose pulp from woods extended their application like the transparent substrate film for electric circuit, the packing materials for foods and medicines, the reinforcing/weight-lightening materials of resin, etc.
The main purpose of this symposium is the communication of researchers who are investigating and interesting in environmentally friendly renewable and sustainable materials like bio-nanofibers. The scientists will report and exchange their researches to get their new research direction. Distribution will be performed for scientists in academic institution, engineers in industry and students in university, who are interesting about such advanced materials and considering to be concerned in them. Thus, we expect that we can act as a bridge among scientists, engineers and students to encourage the researches of renewable and sustainable materials and the communication of these researches will enlarge in Taiwan, Asia and whole world.
Registration fee: Oral/Young: 3000NTD (100USD) (including banquet)
Student: 1000NTD (35USD) (excluding banquet)
Abstract submission: June 30, 2019 
Award: Best presentation award for young researcher and student
Organizer: National Taiwan University of Science and Technology, Taiwan
Chair persons: Toyoko Imae & Cheng-Kang Lee, National Taiwan University of Science and Technology, Taiwan
Contact: secretary@materials2019.org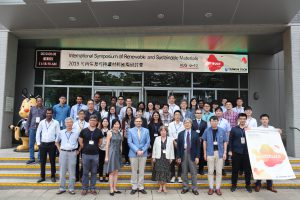 Mizuki Hamamoto, a MSc student from Kumamoto University, Japan, has stayed in our lab to conduct research from 13 September to 6 December 2019.
Graduation July 2019
Five lab members namely Ton Anh Khoa (Kevin) (Ph.D.), ) Strong  (MSc), Shannon(MSc),  Joe(MSc) (MSc) and Andargachew Mekonnen (Andu) (MSc)  has completed their Ph.D. and masters study respectively after successfully defend their research presentation on July 2019.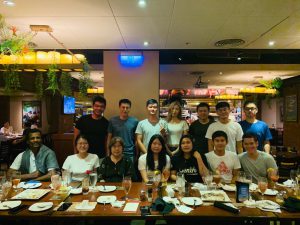 Photo during dinner after graduate students thank you to professor and welcoming new member's
Dr. Kinjal J. Shah was invited as "An Invited lecturer of International Leading Young Scientist" in the 68th SPSJ Annual Meeting. (May 29, 2019)
Short corse lecture by invited guest professors (Feb 20 -22/2019 )
A short-course lecture was given for three consecutive days (Feb 20 -22/2019 ) for NTUST  students by Prof. Ozaki and Prof. Morisawa who came from Japan. The lecture was focused on the basic working principles of molecular spectroscopy.  Prof. Yukihiro Ozaki has delivered a lecture on Surface-enhanced Raman scattering/Tip-enhanced Raman scattering and its application to nanotechnology whereas Prof. Yusukie Morisawa explained on "Studies for electronic states of molecules in the condensed phase using attenuated total reflectance spectroscopy in the far ultraviolet region".
Upgrading
Mint has successfully completed her master course study and continue her PhD after getting a fast-track study opportunity in our research group.
Graduation 
Two lab members namely Mulugeta Tessema Efa (Ph.D.) and Liliana Theresia (MSc) has completed their Ph.D. and masters study respectively after successfully defend their research presentation on Jan. 11/2019.
Christmas party
The lab group members have celebrated Christmas of 2018.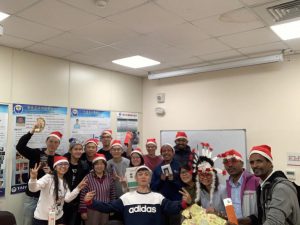 Carmen, a Ph.D. student from Spain, Institute for Advanced Chemistry of Catalonia (IQAC). Spanish National Research Council (CSIC), Barcelona, has stayed in our lab for from October to November 2018, to do research. She has successfully finished and back to Spain.
Shannon (Master student) has joined an international conference in Yamagata University, Japan and She got a best poster award.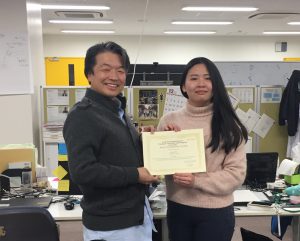 Shanon with prof. Hidemitsu Furukawa; Dec. 2018, Japan
Conference participation
Mulugeta Tesema Efa, a PhD candidate, has participated an international conference titled "green Electrochemical Technologies"  at Tainan, Taiwan which was organized by the Electrochemical Society of Taiwan on November 22-24, 2018. He gave an oral presentation about his work on dye-sensitized solar cell.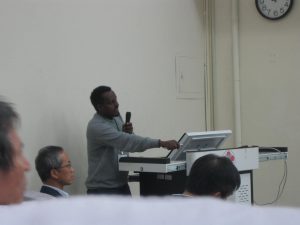 November 5, 2018 
Seminar
Prof. Yury Shchipunov from Institute of Chemistry, Far East
Department, Russian Academy of Sciences, Vladivostok, Russia. He has delivered a presentation about his research works on cellulose entitled with "Bionanocomposites prepared through the mineralization of cellulosic aerogels ". Professors and students of NTUST have attained the seminar. Thank you prof. Yuri Shchipunov
 
September 27, 2018 
Seminar
Professor Imae invited a renown researcher, Dr. Carlos Rodríguez-Abreu from Institute for Advanced Chemistry of Catalonia (IQAC). Spanish National Research Council (CSIC), Barcelona, Spain. He presented on the topic "Formulation of emulsions and their use as templates for the fabrication of colloidal materials at various size scales". The seminar was important for our research group to strengthen the collaboration work with the institute.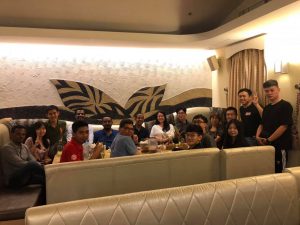 Photo during dinner after the seminar and same time to celebrate teacher's day. Prof. Imae has received a special gift from her students to remember the day.
May 14~16, 2018, Professor Imae is organizing international Conference at NTUST
Website: http://lfm2018.org
International Conference of Layers, Films, and Membranes for Green, Environmental and Biomedical Sciences.  You are welcome to join as students, young researchers, and professors.
May 12, 2018: Many thanks for Prof. Shuichi Hashimoto (橋本修一) at the Department of Optical Science, University of Tokushima, Japan, who taught us a seminar entitled " Interaction of lasers with gold nanoparticles: photothermal effects and their applications". The talk was very interesting and fruitful, using Femtosecond. and nano sec. lasers for gold nanoparticles.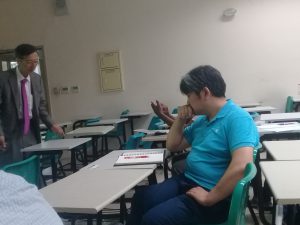 Jan. 30~31th, 2018, We have the collaboration meetings with the Malaysian group.
Jan. 22nd, 2018, Congratulations!! Kukuh Wicaksono (Kuku) and Juwitaherlina Riskawati (Juwita), for getting your master degree. All the best. 
Jan. 11th, 2018, Congratulations!! Dr. Mekuriaw Assefa (Meku) and Mulugeta Tesema Efa (Mule), for getting your doctoral degree and qualification exam, respectively. Wish you all the best. Dec., 1st, 2017, Prof. P. A. Joshi, A professor of Chemical Engineering, Faculty of Technology, Dharmsinh Desai University, Nadiad (Gujarat), India, introduced us some "Research Projects on Synthesis, Characterization, and Applications of Nano-catalyst in Shah Schulman Centre for Surface  Science & Nanotechnology"  Nov. 09, 2017, Dr. Hideyuki Murakami, A Group Leader, Surface and Interface Kinetics Group, Research Center for Structural Materials National Institute for Materials Science (NIMS) Japan, gave us an amazing introduction about NIMS and its amazing opportunities for research besides his own research.
   
Sep. 27~30,2017, Prof.Imae, Dr.Mahmoud M.M. Ahmed and Thu participated by Keynote, oral and poster presentations respectively on the sixth Asian Symposium on Advanced Materials: Chemistry, Physics, biomedicine of functional and novel materials (ASAM-6), Hanoi, Vietnam.
July 2017, prof, Imae, edited a new book on Nanolayer research published by Elsevier.
Nanolayer Research: Methodology and Technology for Green Chemistry introduce the topic of nanolayer research and current methodology, from the basics to specific applications for green science. Each chapter is written by a specialist in their specific research area, offering a deep coverage of the topic.
Nanofilms are explained, along with their rapidly emerging applications in electronic devices for smart grids, units for cells, electrodes for batteries, and sensing systems for environmental purposes in applicable subjects.
Chapter 1. principle of nanolayer T. Imae
Chapter 2. electrical double layer at nanolayer interface H. Ohshima
Chapter 3. nanolayer observations by scanning probe microscope M. Kunitake, S. Watanabe A. Ohira
Chapter 4. nanolayer properties by surface enhanced spectroscopy M. Ujihara, T. Imae
Chapter 5. nanolayer analysis by reflectometry J. A. Dura, E. D. Rus, P. A. Kienzle, B. B. Maranville
Chapter 6. nanolayer analysis by sum frequency generation spectroscopy Hidenori Noguchi, K. Uosaki
Chapter 7. nanolayer analysis by near edge X-ray absorption fine structure spectroscopy T. Ohta
Chapter 8. nanolayer analysis by photoelectron spectroscopy M. Oshima
Chapter 9. layer-by-layer nanolayers for green science K. Ariga
Chapter 10. carbon-based nanolayers for green science (capacitance) M. M. M. Ahmed, T. Imae
Nanolayer Research, 1st Edition, Methodology, and Technology for Green Chemistry
Authors: Toyoko Imae
eBook ISBN: 9780444637475
Hardcover ISBN: 9780444637390
Imprint: Elsevier
Published Date: 6th July 2017
Page Count: 408
Feb. 04, 2017, Nepalese researcher, Akash Deo,

 visited our lab and gave an inspiring talk.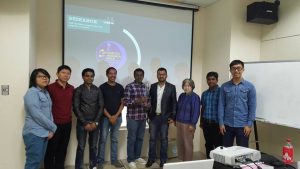 Dec. 22~25, 2016, Prof. Imae was invited to for a talk at "Global Research Efforts on Energy and Nanomaterials" (GREEN Conference) at Taipei Tech University.
Dec. 11, 2016, Lunch with alumni members (Alice, Jenny, Yohan, Frank, Lee, Julius and Dr.Ya ).

Dec. 07-10, 2016, Professor Imae was invited to for a talk at "The 16th International Conference on Biomedical Engineering" organized by NUS Singapore. The talk was titled "Phototheraputic Functionality of Biocompatible Graphene Oxide/DendrimerHybrids"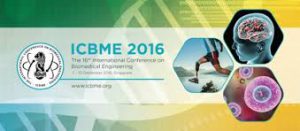 Nov. 15, 2016, Celebrating professor Imae's birthday
Oct.31,2016, Prof. Imae's research is selected to be presented as the top research in NTUST
  Oct. 21~22,2016, Prof. 

Marie-Pierre Krafft,

University of Strasbourg. Institute Charles Sadron (CNRS), Strasbourg,

France

 visited us and we had fabulous days.
Sept., 29, 2016, We celebrate teacher's day with Professor Imae as well as Professor Ujihara's birthday.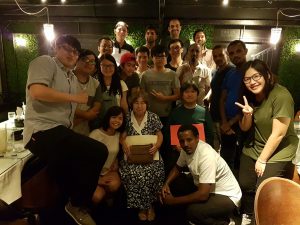 Aug. 15, 2016, Dinner party for graduated Master students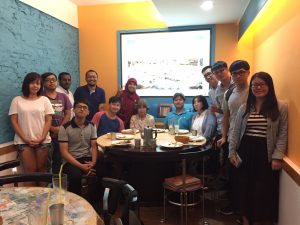 July 23, 2016, We had Lab trip with professor Lik Voon Kiew and Lip Yong Chung at Taichung, Taiwan.
July 22, 2016, We had organized "International Symposium of Functional Molecules for Biomedical Applications." Chung Shan Medical University, Taichung, Taiwan.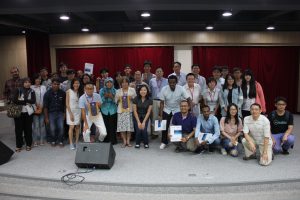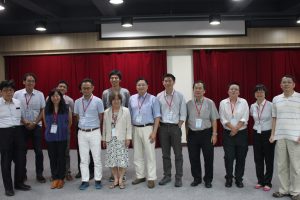 July 21, 2016, Prof.Hiroyuki Noji, Department of Applied Chemistry, The University of Tokyo, Japan visited us and lectured on the topic of " Single-molecule biophysics of ATP synthase synthase."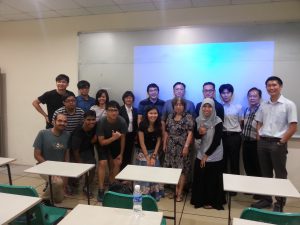 July 20, 2016, Mahmoud M. M. Ahmed,  蘇進豪 (Watson),  郭政諭 (Kyrie), Atut and Karen had oral presentations.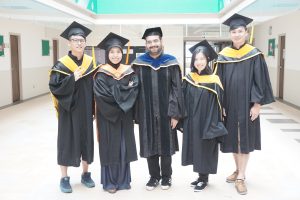 March 10, 2016, Dr. Chin-Hua Chia (谢振华) Associate Professor in the Materials Science Programme, School of Applied Physics, National University of Malaysia (UKM), Malaysia visited us and lectured on the topic of "Preparation and Functionalization of Cellulose Products from Agricultural Wastes for New Applications."
March 4, 2016, Dr. Nissim Garti, a full professor of chemistry and the Director of the Casali Center of Applied Chemistry, The Institute of Chemistry, The Hebrew University of Jerusalem, Israel visited us and lectured on topic of "Progress in using novel nano-sized liquid vehicles for improved bioavailability and functionality of insoluble bio-actives."
January 22-23, 2016, Prof. T. Imae gave a keynote talk in The 5th International Symposium of Green MAP Center, NGAP and LPIC, in Yamagata university, Japan.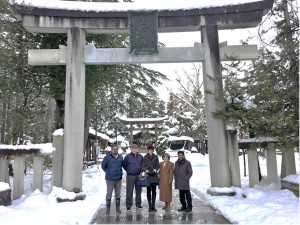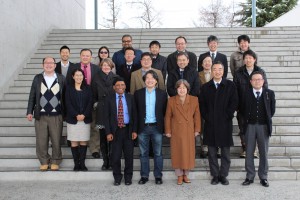 January 2, 2016,  A picture of a lunch meeting with 黃文育 (Yohan Widjaja), 黃正昌 (Jeff), Dr. Ampornphan Siriviriyanun, Professor Ujihara and his wife, and 陳健輝 (Julius Candrawan).